Pilates Apparatus
​Pilates Springboard by Balanced Body

Reference:www.ellehermanpilates.com

, *"Pilates Springboard" (accessed July 8, 2013)

Springboard classes are limited to 6 people.

All levels of experience are welcome!

We are the only studio in Rochester with this unique piece of equipment.

SPRINGBOARD:

This innovative exercise tool was designed by San Francisco's Ellie Herman, a successful Pilates instructor for 20 years and former dancer and choreographer.

The Springboard provides spring resistance in order to build long lean muscles. Take your matwork to the next level and improve strength, posture, balance, flexibility and coordination. Exercises can be done seated, standing, kneeling, and lying down. The springs can be adjusted up and down to increase or decrease the difficulty of the exercises.

The Springboard takes the individual through a warm up, core strengthening and upper and lower conditioning program using the Pilates method. Beginner, intermediate, advanced, super advanced and even rehabilitation students can use the Springboard. Exercises can be modified to aid a person's limitations and abilities, allowing almost everyone to benefit from this piece of equipment.
GROUP REFORMER CLASSES:
​Limited to 4 people, sign up now for the Reformer classes! Take the time to focus on your form, improve your posture, balance your strength and flexibility and have fun!
GROUP MIXED APPARATUS CLASSES: Use Reformers, Cadillac, & Chairs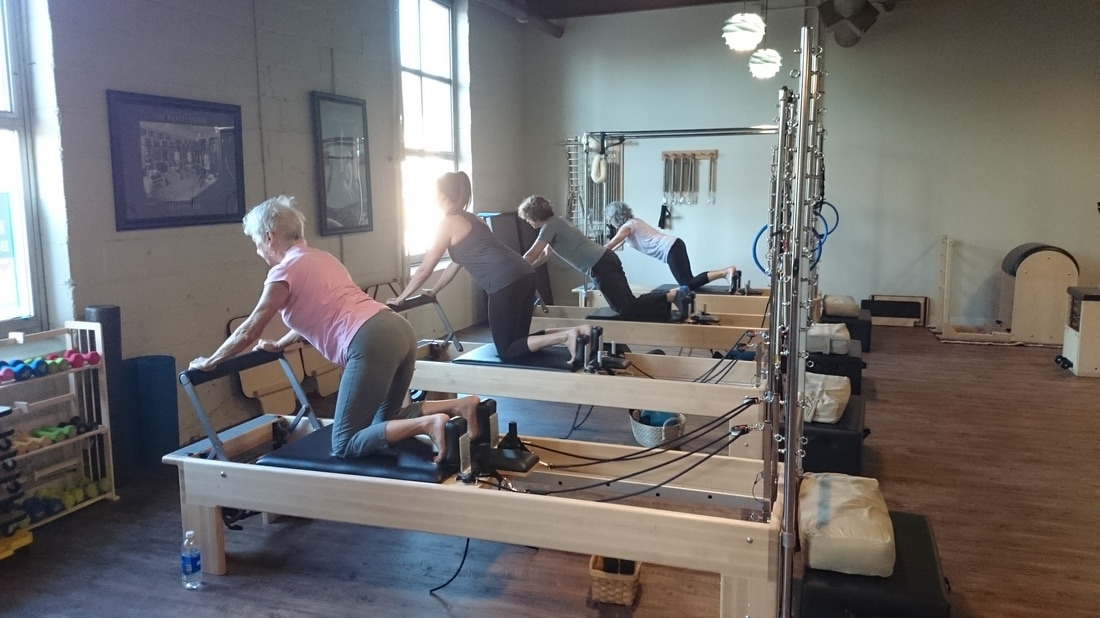 The class emphasis is on rhythmic, flowing sets of movements which increase strength, flexibility and stamina while also improving alignment, balance, coordination and tone. The result of the workout is a uniformly developed body with strong back and abdominal muscles. There are countless different movements in the Group Pilates Reformer classes and these are performed seated, standing, on all fours, or lying on your side back or front.
Classes are limited to 6 people. Sign up for the month required.
GROUP APPARATUS SCHEDULE
REFORMER: Joseph Pilates developed the reformer originally from springs attached to a hospital bed. The reformer is a great piece of equipment where you can keep your body moving in alignment. The reformer is the perfect place to start exercising. People who say they hate to exercise usually like the reformer because it is so much smoother than traditional machines & there is no clunk. There is a certain amount of privacy too...you can't really focus on anyone except yourself. You can use the reformer in a reformer, or mixed Apparatus Class, Private or Semi-Private Session.
CHAIR: What a great invention! Designed to be a compact, useful, and challenging piece of equipment. Some say Joseph Pilates made this for all people to have exercise equipment in their living room. One that you would actually use & didn't have to hide in the closet or under the bed.
The CADILLAC:
was designed to also have various springs, bars, & a trapeze over the top so that one can take their Pilates practice off the mat (literally into the air). Some say he named it the Cadillac (after the car) because it was & probably still is one of the fanciest pieces of exercise equipment available.
Exercises can be both gentle & challenging depending on what is going on in your body. Always feel free to let us know what is going on with YOU! Back to
About Us
Back to
Pilates
ALL OF OUR EQUIPMENT IS